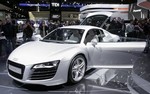 Image by Getty Images via DaylifeBurm tagged with with a meme. A fracking meme. This is almost as awesome as his pending nuptials, so I now participate below.
What were you doing five years ago?
I was about to get promoted at the SBUX. Living in Seattle, and working on getting that Paper.
What are five things on your to-do list for today (in no particular order)?
1. Fold Laundry.
2. Vacuum Car.
3. Send thank you cards. (for my birthday)
4. Buy groceries
5. Do something nice for a friend.
What are five snacks you enjoy?
1. Doritoes
2. Jamba Juice [Pink Starburst Flavor, its not on the menu folks, ask for it]
3. Wheat Thins, by the box
4. String Cheese
5. Fruit Roll ups.
What five things would you do if you were a billionaire?
1. Move my grandma out here
2. Pay off all debt
3. Take the friends(you know who you are) on a super fun extravaganza. So no one felt like they owed me, they would pay one price. That price would be to call me "Sean" only. Not seanoliver, not oliver, not Mr. O, not chief. Just Sean.
4. Buy an Audi R8's, with custom blue paint for someone I know would drive the hell out of it.
5. Start making dreams come true.
What are five of your bad habits?
1. Procrastination
2. Verbal pauses, "ummm"
3. Shitty diet
4. Selfishness
5. Talking to myself
What are five places where you have lived?
1. Seattle, WA
2. Spangle, Washington (where I met Burm)
3. Anchorage, AK
4. Clifton, NJ
5. Oakland, CA
What are five jobs you've had?
1. Sales Associate/Jean Jockey
2. Equipment Rep
3. Temp
4. Busisiness systems analyst5. Youth and Family Counselor/Activity Therapist
5. Janitor
These are the people that I'm tagging. What? You better do it.